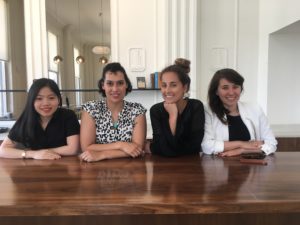 Iuliia Sursanova and Vy Nguyen have left their posts in Russia and Vietnam to come observe the success of HQ Raleigh as a co-working space as part of the US Department of State's Professional Fellowship program.  Sursanova hails from Perm State National Research University where she is a the Head of Innovative Capacity Development Sector. Vy Nguyen is a lecturer at Faculty of Economics and Accounting, Quy Nhon University.  

While they are only visiting for a month, They both took care to emphasize just how different and unique the innovative culture of Raleigh that they will try to emulate at their respective universities. Nguyen elaborates, "In my country, people are looking for a short term way to make money, they aren't as motivated by an idea.  They are afraid of failure."
Sursanova describes the attitude toward entrepreneurship at her university in Russia.  
'There are some people who are self motivated, but they are often focus on the research and they do not want to play the role of entrepreneur.  People that want to live it all are a rare breed, so we need to make a model that allows people to focus on their part then coming to business. We want to lead students to innovation instead of them just studying business at school.'
"We talked with several local companies and it was interesting to see why they were motivated to come into the field."  She echoed the 'contagious' sense of entrepreneurship and wanting to enter the field just from being around it. She wants to bring home the sense of contagious entrepreneurship that motivates people and draws them in exponentially.  

In my city, we have several co working space, but I haven't seen one that has been sustainable and profitable.  It was interesting to see the structure; it showed me that it was possible, HQ did it. It was interesting to talk to the founder and understand their motivation for creating the co-working space."
She plans to do this by taking the startups that they have now and building internships into them so that students can get involved in contagious innovation.  
From an academic perspective, in Raleigh, "There are a lot of courses with entrepreneurship intensity. It isn't even for business, but in every course, there is application.  Right now we have economic faculty. We've started to create these courses for our schools but haven't implemented it yet.  It helps seeing their structure and seeing them function" 
 Iuliia really believes in the power of education and innovation together, and she hopes more of a value on this will change the market for the better.  She thinks that growth in innovation will have national impact on her country.
She spoke on the value of having an international perspective and how traveling helped her realize the potential of a co-working space in her city.  "When I start something and feel challenged by it, seeing another example of real working project is motivating. It also helps to see the similarities.  Much of the startups face the same challenges in Russia and the United States.  So it helps to see that someone faced the same challenges as us and still ended up doing well."
Vy has similar aspirations, "I plan to set up an incubator in my university, so I'd like to get more experience with that.  I see a very common situation, where the student cannot get a job after graduating. I want to teach people how to create a sustainable life for themselves."
"Innovation is very new.  Some people are afraid and they do not know how to start a business by themselves.  They don't know what kind of first steps to take or how to apply their university education to their own startup."
"I want to focus on Economics faculty first, because they have the most background knowledge."  
"The culture and work environment is the biggest difference I've seen.  The people here, they try and they put all of their effort towards their economy.  They love their work. Someday I will see this spirit in my country."
Interested? Get the process started: