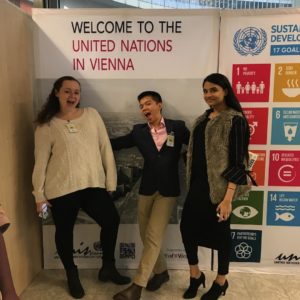 Dane Acena just graduated and is now pursuing a PhD in Human Centered Computing at Clemson. But before all of that, he won second place in the Thurgood Marshall Foundation's OFC 3-day Hackathon, which earned him the opportunity to join GLP Impact Hub Crawl Prague/ Vienna in January.  We asked him to reflect on how GLP influenced him as a student, app developer and global citizen.
Acena first started by explaining how the STEM stereotype interacts with global leadership and entrepreneurship, "I'm a tech concentrated person, and the stereotype is that we don't have many social skills.  The program helped equip me with those skills. There are different kinds of people and the way to manage that is not one size fits all."
By offering his expertise to others on the trip he learned how vital collaboration and trust is to innovation, a skill that he intends to use while pursuing Human Centered Computing,  "People with differ skillsets have different knowledge and they bring different things to the table. Before, I used to hate doing group projects; I didn't like not knowing if I could trust my classmates.  It opened my eyes to the fact that I can't do everything myself. I know I have expertise in this one field, but in order to innovate, I have to get contributions from other people in different fields. If I have in perspective A and someone has perspective B, I can now integrate the two in order to come up with a creative solution that will benefit everyone."
To Acena, GLP's goal to push students out of their comfort zone allowed for growth and continued to distinguish him as a programmer, "It opened my mind. I chose human centered computing because it opens up a way for me to work with technology and integrate that so I can work with people."  Getting comfortable with people skills helped him explore a side of technology he probably wouldn't have thought to go into. Being comfortable with people and understanding how they interact with technology all over the globe gave him insight on how to develop apps and technology for everyone, "I do a lot of research with the College of Humanities at the University of South Carolina and now I realize why I was told I have to redesign my app; I have to adapt it for all kinds of people to use.  Going through GLP made it click, "I've got to design this app for all people because it isn't just for me, I made it for the world."
How does such an evolution occur?  It doesn't take long, according to Acena.   He is confident in the the effectiveness of a short-term, intensive program, like both the OFC Hackathon and GLP, "Right away you dive into it.  To me, having a short period with an ultimate goal in mind motivated me in both the GLP and the hackathon's intensive settings."
He says that the biggest challenge was getting out of his comfort zone initially, but this allowed him to develop confidence in his social skills.  "The very first activity struck something in me, it pushed me out of my comfort zone.  We were given a list of unusual tasks to do around the city, but after it, I realized it helped us open up to the city.  We weren't really oriented to what was rude to the culture, what was acceptable – it gave us a way to learn by ourselves, which really stuck with me the most.
"I learned more in the 3 days I spent in Hackathon than in a whole semester in class because we got a crash course.  It really gives you the motivation to work as fast as possible. With GLP, it felt like a very short time to learn the city, it pushed us out of our comfort zone.  Outside of going to classes everyday, you have to learn their culture, how town works socially, how the society works"
Dane learned his potential to work with people, for people and the best learning strategy for him with GLP, what will you learn?  
Get more information about Leadership exCHANGE's Impact Hub Crawl hereand unleash your potential.
Interested in using your tech or business skills to compete? Check out next years' OFC competition here
Interested? Get the process started: