Retreating in a Chateau in the Czech Countryside
Such a short time can bring people together so quickly.  Through a bunch of different exercises in rearranged groups, we were able to work with each other's strengths and weaknesses.  We escaped a busy Prague in the afternoon to arrive in the quiet, yet colorful town of Jirkov, about an hour north of the city. "I absolutely was not expecting this" exclaimed a fellow participant as she stepped out of the bus. The next few days were packed with laughter, exploration, and a healthy amount of difficulty – anything worth doing is.  We learned so much, about each other, how to understand other perspectives, and about the world. All of which rendered us knocked out for the entirety of the drive back as we rolled down the hills of Northern Bohemia.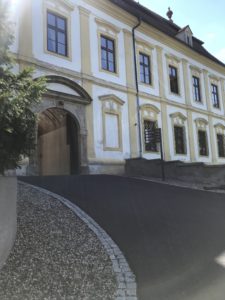 Navigating like a Local
If you're like me, you've been places with your family and not much else.  The added chaos of making sure your siblings have their pillows, that dad won't destroy the navigation system – it's tiring.  Traveling here, on my own, has been a hugely rewarding challenge of its own. At first it's stressful; trying to understand street signs feels like reading upside-down.  But by the end of the first week, I was able to get my way to the store and the river and school and back and around again! I felt proud of myself. Now I walk, head high, through the cobblestone streets with confidence and independence.
Starting Class Abroad
We didn't start class or see the university building until after the retreat. The first part of July there are two national holidays so the university building is closed. For a planner like myself, this was at first a source of worry for me as I like to know exactly what I am walking into in order to prepare myself for it best as possible.  So as I finally got to see inside the university, I knew I would be, yet again, leaving my comfort zone. Would I be able to balance learning and exploring? Would I be at the academic level as my peers? But when I walked into the traditional Czech building that lined the river with my peers, I quickly realized this would be great as long as I threw myself into it.  Class was engaging, relevant and rewarding. I won't get into the specifics – you'll have to find out for yourself. However, I will say that it relaxed my usual worried self as I head into the next project in my life, whatever that may be.
And there you have it, the first week flew as we filled each day with adventuring, such that we were asleep by the time our heads hit the pillow.  I learned about my peers, whom I never would have met at random, in the context of who the are as leaders and who they are as people. Now, I cannot wait to continue to get to understand where my new friends come from as we take on different perspectives in and outside the classroom.  
Interested? Get the process started: